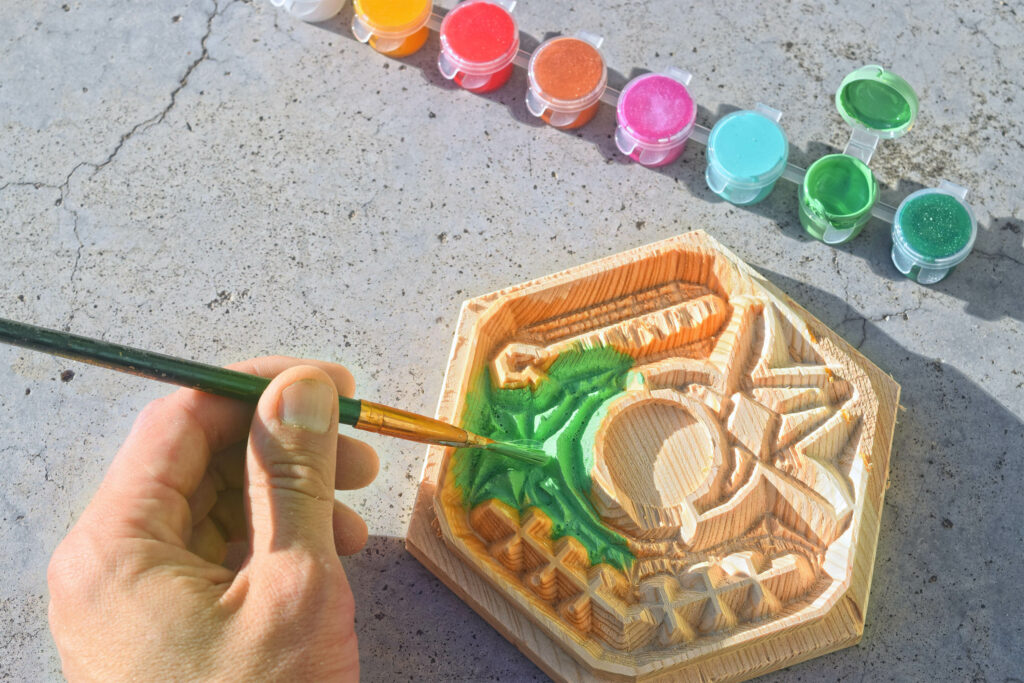 If you're looking for a fun family craft activity to do over the holiday break then look no further. This kit is the perfect solution to creating lasting memories with your friends and loved ones.

Imagine waking up on a snowy winter's morning, where the whole family, young and old, are tucked away through out the house. Fire up the coffee. Pick up the brush, and detail some Catan pieces while snow flakes meander slowly to the ground.

With no particular agenda and no rush to be anywhere, they trickle out of bed one by one and join in the fun. Eat some eggs, put on some Bing Crosby and let it roll into late after noon. Let the young ones pick out the colors of their castles, the flags of their tiny empires. Decorate the linen bags of the game pieces with custom logos reminiscent of Middle Earth.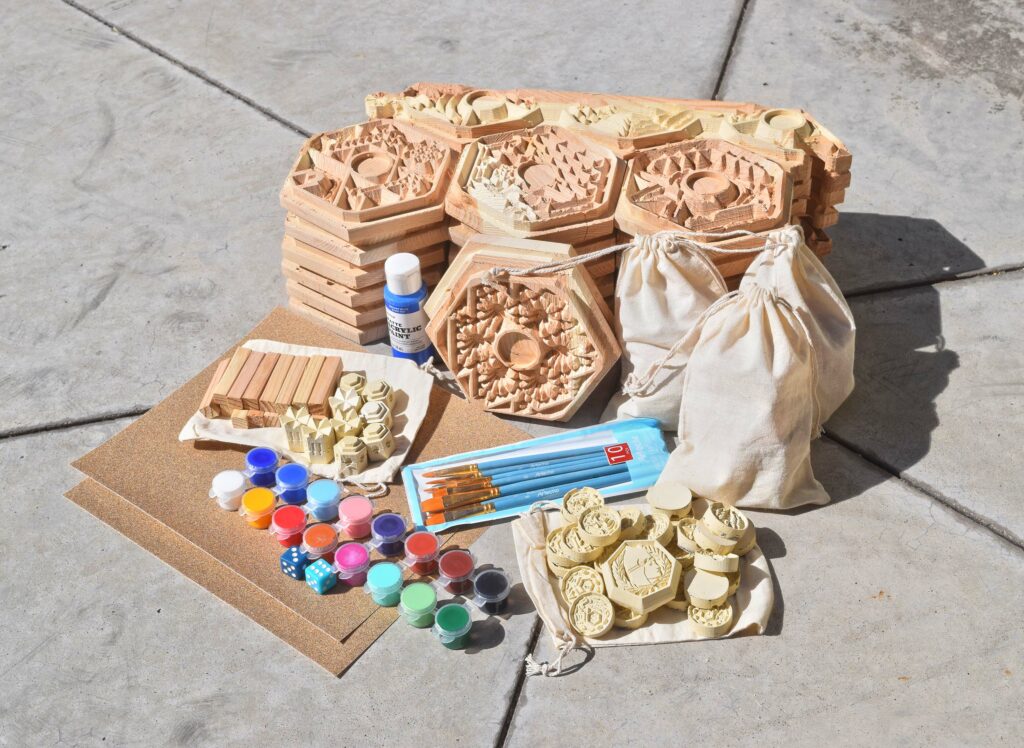 Purchase the Painting Kit and Related Products Below
Family Fun for All Ages
The wooden hexagons are designed like a paint-by-numbers to alleviate the need for precision. This activity is suitable for all ages and skill levels (maybe not babies though). Select a variety of red and brown tones for your brick tiles. Improvise, or make new fantastical color schemes. Get crazy! Add gold, glitter, or even sand to your paint for custom textures. Take a car key and scratch it up to make it look old and distressed. Faux Finishing is a pretty fun field of study, if you want to go deep into more advanced techniques.
A Craft Set Ready to Roll Outta-the-Box
This kit is ready to roll right out of the box. This is a Turn Key Solution so you won't need to worry about making an errand to the art store during the Holiday commotion. A great paint palate has been included, containing rich natural tones, to mix and match. Ten brushes of various sizes allow for many people to participate at the same time. A few pieces of sandpaper will allow you to clean up and subtly round some edge. The sand paper is also used to sand away any over-painting. If you get sloppy and go over the edges of the paint-pocket, it can be cleaned up pretty easily to produce sharp lines and a clean professional look, without actually needing to be a professional.
A Craft Project That Forms Lasting Holiday Memories
The beauty of these boards is that all the participants will return year after year to play on them. They mark the progress of time. The memories are embedded in the object. These are heirloom objects. If treated properly they could last many generations, even change hands, or eventually end up on an episode of Antique Roadshow in the year 2099. In previous entries I've written about how board games can play a very special role in family relationships. Imagine inheriting a chess board from your great grand father. It's a priceless experience.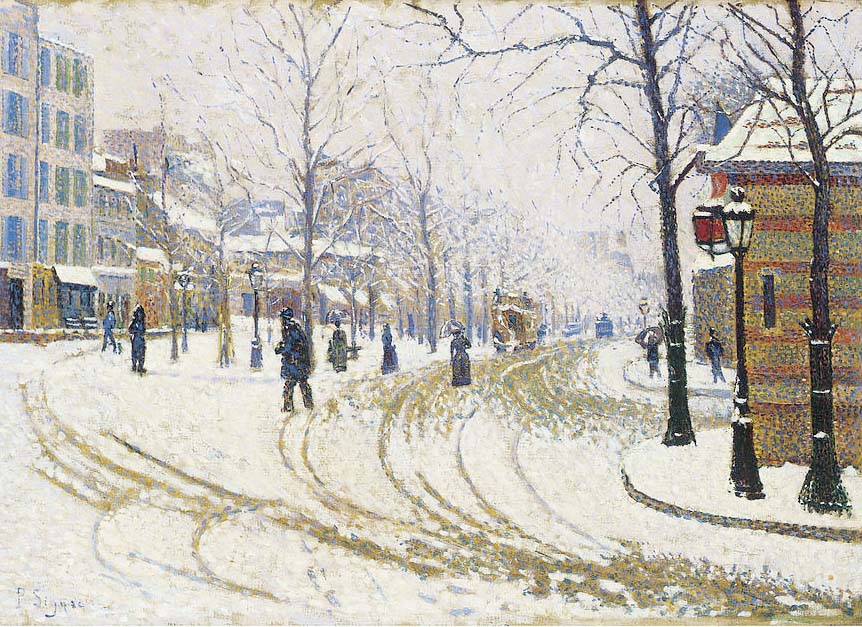 Settlers of Catan Family Fun Holiday Craft Activity
I'm not necessarily a hardcore gamer. Catan is however one of my favorite games and I love playing it with friends and family. I think it stands the test of time and is more like Chess than Monopoly. I've obviously invested a lot of time in improving the game pieces, to elevate it to the realm of the Classics.
This kit includes everything but the resource and development cards
Please pay homage to the copyright holders purchase the official Mayfair Games Settlers of Catan from their website, Amazon, your local game store, or even Walmart. Upon purchasing this, I can ensure that money has been given to the originators, you can get your playing cards, and everyone can enjoy this fun family holiday craft activity.
Details of Completed Board + Action shots
These Board Games Are Large!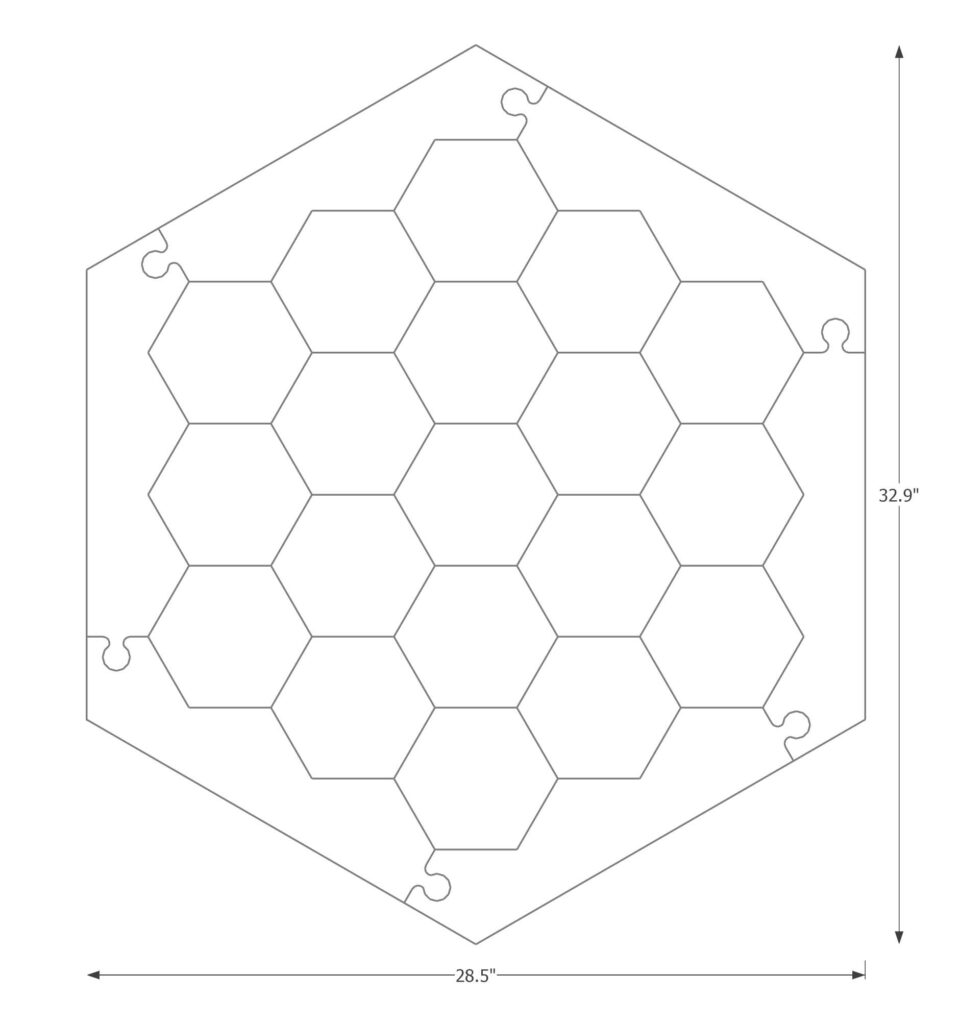 I was tired of hovering over a cardboard Catan set. I wanted to be able to lean back in my chair, read the board, and plan my victory with greater ease. I was tired of the cardboard version warping up on humid days, falling apart while you play. A board game of this quality warranted a much better construction. This was the impetus for creation. This board is large and the pieces have a nice weight and tactile quality to them. Click the image on the left to see a scale reference. An action shot is featured directly above, to see how large they appear on a table.