Description
A Great Activity for Holiday at the Cabin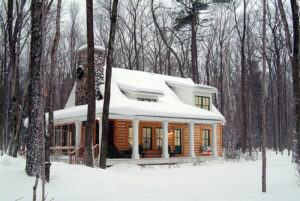 This is the perfect activity for a summer vacation at the cabin or a holiday break with family, friends, and loved ones.  Put down the mobile devices, turn off the Netflix and engage with the people around you.  This is a perfect craft set for #PorchLife.  Porch life is where you hold down the fort by sitting on the porch with your friends all day long.  It's a way of flexing and letting the community know that you care.  Porch Life can extend to the Cabin.  Let all your neighbors know that you're having way more fun than they are.  Put on some music and some good lighting.  Laugh it up telling stories and jokes, but be sure that you have a good activity to keep things rolling.  Porch Life is not a goal-centric world-view, but having a common activity where everyone can engage is a very powerful tool.
Be Sure to Purchase the Regular Kabinet Materia Catan Board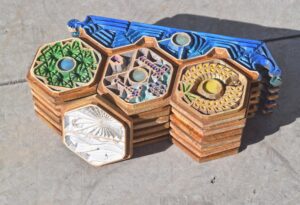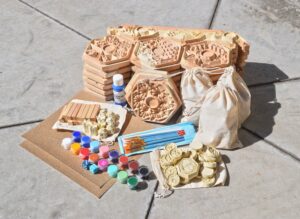 Great Activity for Kids and Teens
The boards are designed so that children and teens can easily paint them and create a magnificent final product.  The images are carved into the wood to make little "paint-pockets", resembling a paint by number. Get creative and have fun choosing all your colors!  All the game pieces are raw so you can decorate them with your own colors.  Decorate the linen bags with custom medieval logos.  Break out the paint markers and go wild!